Modular environments
From polycount
Modular means pieces are made to fit together according to a common pattern, so just a few pieces can be reused multiple times to create a bunch of variety.
Modular Design & Workflow
How to plan out the development of modular environment pieces, and the workflow for creating them. The design of modular pieces is closely linked to game design; see Category:GameDesign for more.
Modelling Buildings with Interior (Question) Polycount Forum thread with advice on creating buildings.
UE4 Modular Building Set Breakdown - by Jacob "jacob07777" Norris. Gritty urban city modular system. File:JacobNorris Building Breakdown.pdf (1.5 MB)
UDK Gears of War Inspired Environment - Modular - by Paul "Ahniketos" Mandegarian. Gears of War themed modular palace environment. Latest art is here on his website.
UDK Modular Masterclass - Efficiently Creating and Entire Scene with Tor Frick - ($) a tutorial by Tor "snefer" Frick. Abandoned warehouse modular workflow in UDK, using Modo and Photoshop.
Post apoc scene Breakdown - by "HP" Pinto. Details about the creation of a modular abandoned warehouse.
Polycount Article: The Environment Art of Halo 4. Modular workflow for Halo 4.
Modular Building with UDK - ($) a 3dmotive tutorial by Tyler Wanlass. Covers planning and workflow for modular buildings using Photoshop, 3ds Max, and UDK.
Skyrim's Modular Approach to Level Design - Transcript from GDC 2013 talk on Skyrim"s Modular Level Design. An excellent in-depth article on Bethesda"s environment art system.
Modular Environment Design.rar (12 MB) and Google Sheets conversion - by Kevin Johnstone. East Coast Game Conference 2011 slides of the talk "Modular Environment Design, Or how I learned to stop worrying and love the grid". More workflow explained in the threads Lack of Environment Artists, Gears2 Environment Art and Gears2 Environment Art Step by Step (ZBrush Central).
An exercise in modular textures - Scifi lab UDK - by Tor 'Snefer' Frick. Extreme Texture atlasing and ChannelPacking.
File:Investigation into modular design within computer games v1.0.pdf (8.6MB PDF) - by Scott Jones. Research paper on modular workflow. Definition, benefits, history of modularity, usage, methods, case studies, UDK and 3ds Max. See the Polycount forum thread Modular design within games.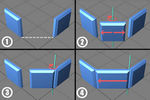 Workflow techniques and modularity with Unreal game technology - by Epic Games. A guide to setting up your art-to-level-design pipeline and designing modularly.
Modular Environment Art applied from plaster tabletop sets - by Ben "Makkon" Hale. Polycount forum thread with great visual breakdowns of modular tabeltop models.
Visually Appealing Building Guide - by Christopher Albeluhn. An excellent breakdown of how to create visual interest with game buildings. Additional tutorials here.
Creating Modular Environments in UDK - a tutorial by Thiago "Minotaur0" Klafke. Covers the techniques used to make Zest Foundation.
Modular Mount & Blade - by "gutekfiutek". Modular workflow for the mod "Polished Buildings" for the game Mount & Blade.
Modular brick wall tiling - by Glynn Smith. Tips and screenshots for sculpting modular brick walls.
Generic wall tutorial - by Bram "Peris" Eulaers. Using 3ds Max and Mudbox to sculpt tilable modular sections for a stone wall.
Creating Perfectly Tiling Meshes in Zbrush for use in Videogame Environments - by Owen "SHEPEIRO" Shepherd. Using ZBrush"s 2.5D canvas to tile stamped meshes, then using Maya to model tilable geometry.
Working with Modular Sets - by Philip "PhilipK" Klevestav. How to design and texture modular sci-fi wall panels.
Working with Modular Rocks - by Philip "PhilipK" Klevestav. How to design, model, and texture modular rock assets, using Crazy Bump, Photoshop, and 3ds Max.
Modularity & Odd Angles on Blender's Grid - by Aidy Burrows @ CG Masters. Getting more natural-looking angles in your modular kit.
More Information
---